A light novel (ライトノベル raito noberu) is a style of Japanese novel primarily targeting middle and high school students. Such short, light novels are often called ranobe (ラノベ) or LN in the West. They are typically not more than 40,000–50,000 words long (the shorter ones being equivalent to a novella in US publishing terms), rarely exceed 200 pages, often have dense publishing schedules, are usually published in bunkobon* size, and are often illustrated(with popular anime style covers and illustrations in the beginning of each story). The text is often serialized in anthology magazines before collection in book form.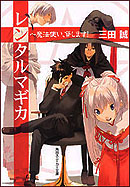 Bunkobon: Small-format paperback books, designed to be affordable and portable. The great majority of bunkobon are A6 (105×148mm or 4.1"×5.8") in size and are sometimes illustrated. Like other Japanese paperbacks, they usually have a dust wrapper over a plain cover. They are used for similar purposes as Western mass market paperbacks: generally for cheaper editions of books which have already been published as hardbacks. However, they are typically printed on durable paper and durably bound. 
Light Novel titles in chronological order. All novels are written by Makoto Sanda and illustrated by Pako. (Available in digital format too) Purchase for 'Traditional Chinese' translated version here. 
Titles / Brief Synopsis
Date
Rental Magica: Mage For Hire!
August 2004

An era where evil spirits are overflowing. Iba Itsuki is the 2nd Generation, currently assumed President of ASTRAL~a company that dispatches mages for hire and confronts demons. As he struggles daily with unfamiliar work, he is derided by a rival who used Solomon's magic and is confronted with a challenge. Before the defeat of his companions, Itsuki's true power awakens. Magic around the world has gathered. Magi Night begins.

Rental Magica: Mage V.S. Alchemist!
March 2005

A heritage left behind for Itsuki by the First President, Iba Tsukasa and the person who is against it, Alchemist Judaix. With the weight of ASTRAL's survival as a gamble in a magic duel, the clash begins between the mages and the alchemist. Tonight, the night of magic is dyed in the blood.

Rental Magica: Mages, Assemble!
July 2005
A request is made to ASTRAL by a shrine. 10 years ago, a ceremony failed and the spellcaster has since disappeared. Thus, Shrine Maiden Mikan Katsuragi's skills are deployed. With the company and the Mikan's disposition at hand, Mikan faces a dangerous ritual.
Rental Magica: The Dragon & The Mage
November 2005
As Itsuki's powerful red eye known as the Glam Sight incurs the suspicions of the Association, Honami's senior, Fin is dispatched to monitor ASTRAL. Itsuki gets enveloped in a strange emotion of jealousy and friendliness as Fin catches up with Honami and her past. However, amidst the daily banter, a powerful magical creature that was sealed deep in the ground, begins to awaken.
Rental Magica: Fate Of A Mage!
December 2005
ASTRAL's gifted Onmouyji, Ren Nekoyashiki, is faced with a magic duel from Kei Isurugi~Onmyoudou V.S Onmyoudou. As Kei summons the Red Fox, Nekoyashiki is ambushed in flames. As blood washes the dueling ground, Kei and Nekoyashiki's sad past plays before Itsuki's eyes. Mikan and Nekoyashiki's past is revealed as well.
Rental Magica: Mage In Training!
June 2006
Despite being the president of ASTRAL, Itsuki does not use magic and is starting to feel the weight of his helplessness. Thus he seeks the help of Sekiren to help train him. On the other hand, due to a traitor, Goetia's leader Adilisia, suddenly loses her control of Forneus and had all her summoning rights sealed and taken away. Furthermore, she has to face Asmodai as she bears her fangs. Will Itsuki be able to save Adilicia? Summoning Magic V.S Glam Sight.
Rental Magica: The Festival of Demons & The Mage (Pt 1)
October 2006
Mikan Katsuragi, a 2nd year primary student and Shrine Class contract employee, was only 8 years old when she left home and returned with Nekoyashiki. Worried about her, Itsuki and company pays a visit to her home where there lies await, countless demons and Mikan as a human sacrifice. As dusk falls, the formidable Festival of Demons begins. Demon V.S Mages~what is the fate of Mikan?
Rental Magica: The Festival of Demons & The Mage (Pt 2)
November 2006
With Itsuki struggling in vain, Mikan is sacrificed along with her elder sister. As she sees her sister being assimilated with the demon, Mikan lets out an echoing scream, finally, beginning the House of Katsuragi's Festival of Demons. As the demons attack, the roar of the magic battle of Solomon and celtic magic starts to increase. As the lightning strikes and earth breaks, a true form of the enemy reveals. Will Itsuki and friends manage to save Mikan from the enemy that lurks in the shadow?
Rental Magica: The Mage's Classmate
December 2006
By request of Shoko, a classmate of Itsuki, ASTRAL pays a visit to Shoko's house to investrigate her grandfather's disappearance and encounters a strange phenomenon. On the other hand, Fin visits Venice, the city of water and passion. There, he meets Sekiren.
Rental Magica: The Vampire V.S The Mage
July 2007
A sophomore who uses rune magic appears before Itsuki. At the same time, a vampire appears as well. Is this a coincidence or an orchestrated trap? By absorbing lives around, a vampire becomes invincible. As they face off the ultimate, will ASTRAL be able to confront a vampire?
Rental Magica: The Mage From Demon City
October 2007
Due to ASTRAL members being subject to a review by the Association, they visit London. However, the headquarters of the Association gets attacked by Ophion. As powerful mages are defeated one after another, ASTRAL's mages' skills becomes temporarily inadequate due to their individual circumstances. On the other hand, Kagezaki's true power is revealed.

Rental Magica: Magic Guide Book
(Illustration Collection w/ 2 short stories)

December 2007
Contents include a collection of Pako's colour illustrations and other fans 30 must-see specials. A short story with illustrations of ASTRAL's history, as well as, the wedding riot of Honami and Adilisia are painted in "Mages, Getting Married!?"
Rental Magica: A Mage's Memory
January 2008
Ortwin, a new member joins ASTRAL and undertakes ASTRAL's financial condition and strives to improve it. On the other hand, Kagezaki pays Nekoyashiki a visit. A connection between them is revealed.
Rental Magica: The Mage Of The Olden Days
April 2008
A flash to the secret past -- "The mage who doesn't use magic" Tsukasa Iba, together with Hazel, Judaix, Sekiren and Nekoyashiki, founded ASTRAL. However, with an emergence of a powerful opponent like Ophion, Sekiren and Judaix were defeated and Nekoyashiki while at odds with Tsukasa, was instigated by Ophion. What conclusion will Nekoyashiki arrive at?
Rental Magica: The Mage's Younger Sister
August 2008
A visitor who breaks the peace of ASTRAL, Itsuki's sworn sister Yuuka Iba, requests to hire a mage. An evening before a showdown with Ophion.
Rental Magica: The Mage From The Ancient City
March 2009
In Ancient City Kyoto, a magic storm is brewing. Itsuki, Honami and Adilicia depart for Kyoto in a crowded bullet train on a school trip but why is Nekoyashiki there as well? A letter has arrived at ASTRAL from "Eight Leaves", an organization located in Kyoto that Nekoyashiki previously belonged to, on a request for a mage to hire. a challenge awaits ASTRAL.
Rental Magica: The Ruined Dragon & The Mage
July 2009
ASTRAL's survival crisis! In the middle of the school trip, Itsuki is pursued by The Association as a subject of 'taboo'. Ironically, he was saved by Fin, a member of Ophion. On one hand, Honami, Adilicia and ASTRAL are desperately seeking Itsuki. On the other, they have to protect an important place. A tough decision is forced to be met.
Rental Magica: The Silver Knight & The Mage
February 2010
Lapis joins ASTRAL and they're back to being lively again. However, as Itsuki does his best as President, his concern for ASTRAL shows. There is a reason for his efforts... Thus finally, begins the third installation of the story!
Rental Magica: The White Mage
July 2010
The Association VS Ophion. Itsuki visits London for the Association's conference and manages to meet its Vice President, Darius Levi, who offers an authority of countermeasure to Ophion. What is Itsuki's intention?
Rental Magica: The Return Of The Mage's Younger Sister
February 2011
After the confrontation with Ophion in England comes the beginning of the 'Grand Feud'. Faced with a turbulence for the past months, ASTRAL gets a visit from Yuuka again, for a favour. What is her purpose? On the other hand, Honami, Nekoyashiki, as well as the old members of ASTRAL, prepares for the coming duel.
Rental Magica: Conflicting Mages
August 2011
The 'Grand Feud' begins! What are its conditions for victory? The moment draws near towards the duel between The Association and Ophion. Tension rises on both sides as ASTRAL ushers in the battle.
Rental Magica: Mages On The Death Line
February 2012
As an accident occurs in the ley line of the city, a certain scene projects in the minds of mages in the the midst of battle. A scene from 12 years ago, connected to Itsuki's Glam Sight and intersected memories. The mystery of fate that has been surrounding Itsuki is revealed.
Rental Magica: The Last Mages
August 2012

The 'tops' from the Association and Ophion clashes as the great magic duel reaches its nirvana. As a storm rages, Itsuki and the ASTRAL members put forth their final efforts. The future of mages is determined here.

Rental Magica: Future Mages
April 2013

This is the final volume of the series, staged after two years from the Grand Feud. As ASTRAL spends their busy days and welcomes a new face, a last and unexpected stir will see to the final 'dispatch-service'; an episode that calls out to the various characters, scattered around the world, that we have known since their debut.
Source:Wikipedia+Japanese Site.