Welcome to the Rental Magica Wiki
A wiki dedicated to the light novel/manga/anime series Rental Magica!
Before you begin, please take the time to read the rules and note that spoilers are inevitable in most areas.
Quick View
Featured Characters
(Please click the characters to expand articles where applicable.)
Favourite Female Character Poll
Latest Issue - Light Novel Vol. 23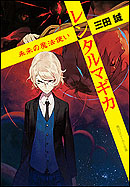 Released in April 2013, this is the final volume of the series, staged after two years from the Grand Feud. As ASTRAL spends their busy days and welcomes a new face, a last and unexpected stir will see to a final 'dispatch-service'; an episode that calls out to the various characters, scattered around the world, that we have known since their debut.